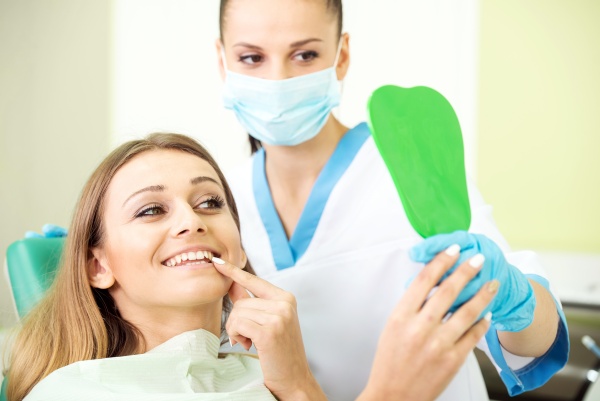 Are you missing teeth? Have you considered dental implants?
When you lose a few teeth, finding a replacement option is necessary as a full set of teeth equals a healthy mouth. Comparing dental implants to some of the traditional tooth replacement options is an excellent idea as this allows you to understand the advantages and disadvantages of each choice.
Through this process, you are more likely to make a replacement option that works for you.
Dental implants
The reason why so many people are choosing dental implants over traditional replacement options these days is that a dental implant very closely resembles a natural tooth. It looks and functions just like a real tooth.
The reason an implant can act as a natural tooth is that it surgically attaches to the patient's jawbone. An implanted anchor holds the artificial tooth in place, so it can handle any normal daily activities. Each implant also blends in seamlessly with the rest of your teeth. The dentist matches the tooth color with the surrounding teeth to make it nearly impossible to tell the difference between artificial and natural teeth.
Traditional tooth replacement options
The following is a list of three common traditional tooth replacement choices.
Fixed dental bridges
A fixed dental bridge can be used to replace one or more missing teeth. This permanent tooth replacement option works by using false teeth to fill empty gaps in the mouth. The dentist attaches a bridge to the surrounding teeth to hold the artificial teeth in place. Bridges can last up to 15 years.
Removable partial dentures
A removable partial denture is another option for replacing missing teeth. This dental appliance is custom made for each patient and includes artificial teeth set in a plastic base. Small attachments sit on nearby teeth to hold the dentures. You can take these dentures out at any time. Removable partial dentures typically last for five years.
Traditional dentures
Traditional dentures are full dentures that fit over your gums. This option is best if you are missing many teeth. Sometimes, the dentist may remove your remaining teeth before creating your complete dentures. You may need to replace your full dentures after five to seven years.
Comparing your options
To recap, dental implants look and act like natural teeth. Compared to other options, they offer a sturdier hold and will not need frequent replacement. If you are missing many teeth, then dentures may be a better choice. Some are removable which can more easily accommodate certain situations or other medical conditions.
Which is best for you?
The only way to know which option will produce the best results is to visit your dentist and speak about your choices.
If you do not have a dentist, then call our office to see how dental implants or any other tooth replacement option can help restore your smile. Our staff will be happy to explain our process and schedule an appointment.
Request an appointment here: https://www.northside-dentalcare.com or call Northside Dental Care, PC at (978) 206-7077 for an appointment in our Peabody office.
Check out what others are saying about our dental services on Yelp: Dental Implants.
---
Related Posts
April 15, 2020
Dental implants are one of the options you get to go over if you are looking to replace one or more missing teeth. Implants replace the lost tooth's root as well as its crown. This …