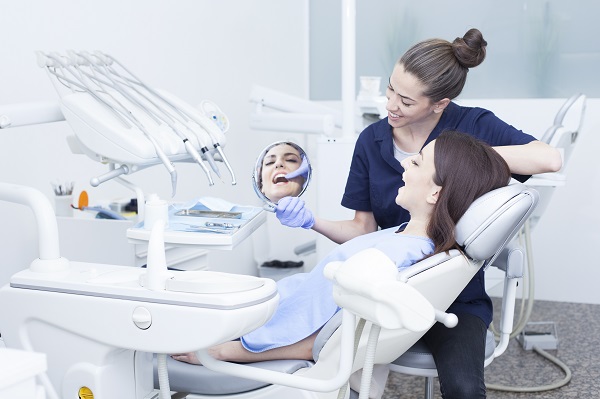 Dental implants are one of the options you get to go over if you are looking to replace one or more missing teeth. Implants replace the lost tooth's root as well as its crown. This helps to prevent bone tissue from breaking down as is normally the case with missing teeth. The installation of dental implants involves surgically inserting a screw or rod into the patient's jaw to serve as the artificial root for an implant crown.
What to expect when getting dental implants
Here's what the process of getting dental implants looks like:
Consultation: The process starts with a consultation with a dentist. Implants are inserted into the patient's jaw, so they need to have enough bone tissue to hold the implant in place. The installation of implants requires minor oral surgery, so those with health conditions like diabetes or those who are not healthy enough to undergo surgery might have to explore other options like dentures or bridges.
First surgery: The second phase of treatment involves the surgical installation of the implants. During this process, a shot of local anesthetic will be administered, and the dentist will make an incision into the patient's jaw. A hole will be drilled into the jaw and the implant is placed in the hole. The incision is closed by up to complete the surgery. The patient is then given up to six months for the implant to fuse with the bone tissue holding it in place. The process is known as osseointegration.
Second surgery: Once the implant has fused with the bone tissue surrounding it, it is ready to have an abutment and crown attached to it. The incision made during the first surgery might need to be reopened to reach the implant. The abutment and crown can be both be installed during the second surgery, or the dentist might schedule a third.
Benefits of dental implants
Once the installation of the implant is complete, the patient gets to enjoy a variety of benefits. These include:
Natural-looking: Implants look and feel like real teeth, so people the patient interacts with will not be able to tell they have an artificial tooth.
Preserves bone tissue loss: People who have lost one or more teeth often experience jaw bone tissue loss. Implants help to prevent that.
No maintenance needed: Implants do not need any specialized cleaning or maintenance to keep them in good condition. Brushing twice daily and flossing once each day is all patients need to do to get the most out of these prosthetics.
Long-lasting solution: Dental implants can last a lifetime with good oral hygiene. No other tooth-replacement option is comparable in terms of longevity.
Start the process of getting implants
Dental implants are more than just a tooth replacement option. These oral prosthetics also allow you to get back to how life was before you lost a tooth. Call or visit our Peabody clinic to get the process started.
Here's how you can reach us…
Request an appointment here: https://www.northside-dentalcare.com or call Northside Dental Care, PC at (978) 206-7077 for an appointment in our Peabody office.
Check out what others are saying about our services on Yelp: Read our Yelp reviews.
---
Related Posts
July 9, 2021
You may be wondering if a visit to the pediatric dentist is necessary once your child starts teething. Although parents are concerned about their child's general health throughout those formative years, oral …