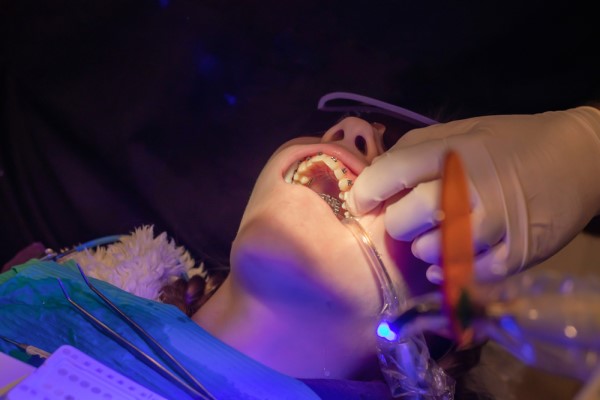 Dental bonding is a procedure that uses a cosmetic resin material that bonds to teeth to improve minor imperfections such as cracks, chips, short teeth, and more. The procedure is non-invasive and typically only takes one dental visit. This makes it an ideal solution for individuals who want a simple way to improve the appearance of their smile and help protect their oral health.
Here is what you can expect from a dental bonding procedure
If you have a scheduled dental bonding procedure or want to learn more to determine if treatment is appropriate for your specific treatment goals, then it is helpful to find out what you can expect during the procedure. The following is a closer look at the dental bonding procedure and how long it takes.
The dental bonding procedure explained
The dental bonding procedure involves roughening the surface of the tooth to allow for proper adhesion of the bonding material, applying a liquid agent that helps the composite resin to stick, and then applying the composite resin onto the tooth. The dentist can then shape the bonding material as needed to allow for the desired feel and look before hardening the material with a special ultraviolet dental light.
How long does dental bonding take?
Dental bonding takes on average 30 to 60 minutes. The dentist may schedule the bonding procedure on the first visit or during a follow-up visit after the consultation. Dental sedation is not typically required for the bonding procedure, but the patient may be able to take certain mild sedative solutions if they feel nervous or are concerned about potential discomfort. Assuming no sedation is used, the patient is able to drive themselves home the same day.
How can I prepare for the dental bonding procedure?
There are not typically any special instructions for patients before dental bonding. However, patients should try and avoid any foods and drinks that could cause stains or contribute to poor oral health before the visit, such as foods and drinks that are high in sugar. To ensure the fastest process possible, patients should also do all they can to arrive on time for their scheduled appointment.
What can I expect after the dental bonding procedure?
As mentioned, most patients are able to return home on their own after the dental bonding procedure. For patients that are bonding multiple teeth, a follow-up visit for a second bonding procedure may be necessary. Otherwise, patients may only need a check-up visit in approximately four months. Patients can take care of their teeth after bonding by brushing, flossing, and using mouthwash regularly. Since composite resin can stain, it is important to limit the consumption of foods and drinks that may increase the risk of stains (i.e. coffee, tea).
Learn more about dental bonding during a consultation visit
Here at our dental practice, we recommend dental bonding to patients with chips, cracks, and other forms of damaged teeth. It can also be used to repair uneven teeth, stains, and various other common cosmetic concerns. Call us today if you would like to schedule a dental bonding consultation.
Request an appointment here: https://www.northside-dentalcare.com or call Northside Dental Care, PC at (978) 206-7077 for an appointment in our Peabody office.
Check out what others are saying about our dental services on Yelp: Dental Bonding in Peabody, MA.
---
Related Posts
March 15, 2021
You might have heard about dental bonding when looking for cosmetic dental procedures. The process involves applying a composite resin over the teeth to repair them. With the right care, bonding can …