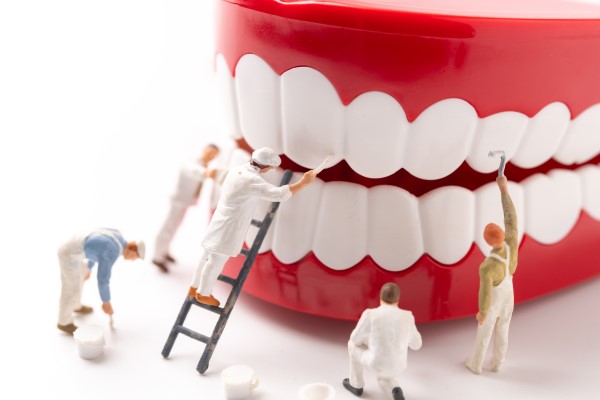 Dentures are an investment worth protecting, so when a denture repair is needed, it should be undertaken by a dental professional. Someone who has the necessary training, skills and materials can do the job correctly. Damage may range from a seemingly insignificant fracture to a complete break. A complete and proper repair can help ensure that the dentures are comfortable, functional and attractive again.
Problems with do-it-yourself denture repair
In the event of serious damage, the denture may need to be replaced. However, in many cases the problem can be addressed successfully in a dental office. There are several reasons a person should think twice before attempting a home repair.
Misalignment
Even a slight misalignment of the two parts of a broken denture being bonded together can produce an uneven surface that can cause pain where it rubs against the tongue, the gums or cheeks. Likewise, a minute mismatch can cause the denture to have uneven pressure put upon it when chewing, which could cause it to fail again.
Toxicity
Glues used by the average person attempting a home repair may include common superglue, extreme-hold craft glue or some other form of cement. While they may temporarily bond to the denture, many of these adhesives can contain harmful or even toxic chemicals, which maintain their dangerous properties even when dry and set. Depending on the chemical makeup, they could even damage the denture, making further repair impossible and create the need for a full replacement. Glues such as these are also less likely to hold up when exposed to the moisture or acids found in saliva and many foods.
Unseen damage
If the denture has a chipped tooth, for instance, it is entirely possible that the same force trauma causing that breakage may have also caused unseen or hairline fractures or cracks to form. If only the chipped tooth is corrected, that unseen damage could lead to further breaks when the partially repaired denture is used.
Warrantees
Many denture makers offer a warranty or satisfaction guarantee on the performance and durability of the denture, provided it is not meddled with by the patient. If a denture owner has a go at making corrections themselves, that may void the warranty.
Equipment
A dental professional will have the appropriate equipment required to make the proper repairs. This includes such things as vises, padded nonskid mats, drills and buffers, ultra-violet curing lamps and other tools as the need arises. Gripping the denture with a pair of pliers at home and allowing them to become further chipped, scratched or damaged is not an adequate substitute.
Conclusion
Taking proper care of dentures includes taking them in for professional denture repair. While the denture is under warranty, the charge is often minimal, if not free. Attempting an uneducated fix at home, however, without the aid of the correct materials and knowhow, can likely end up costing a person more in the long run than going to a trained technician.
Are you considering denture repair in the Peabody area? Get more information at https://www.northside-dentalcare.com.
Check out what others are saying about our dental services on Yelp: Denture Adjustments and Repairs in Peabody, MA.
---
Related Posts
January 6, 2021
Implant dentistry offers a lasting solution for those who have lost one or more teeth. Tooth loss is a common occurrence, especially among adults and seniors. It is easy to dismiss one missing tooth if …