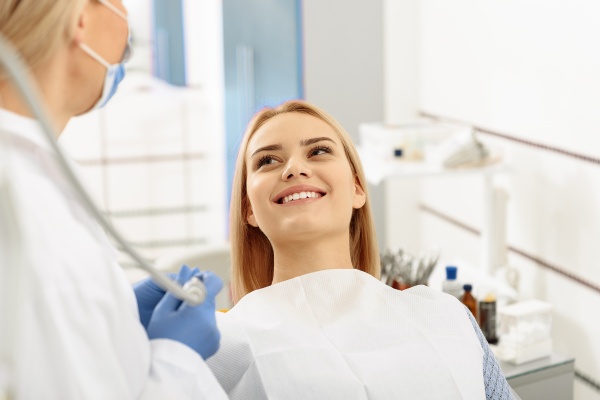 What is the difference between a great dental visit and a mediocre one? The former leaves you feeling satisfied with your experience at the dentist's office and the treatments you receive, while the latter leaves you wondering if it is time to find a new dentist.
These vastly different experiences typically come down to your individual dentist.
Here are some things that a top quality dentist does:
1. Listens to your concerns
Good dentists always want to help their patients as much as possible, and that requires them to sharpen their listening skills. A quality oral professional will listen carefully to all of your concerns and will never push you to get treatments you are not comfortable with.
2. Clearly explains what each treatment entails
A good dentist realizes that you may understand certain factors about proper dentistry, but may not know everything. Thus, the dentist takes the opportunity to educate you about your oral health, treatment options you might not be aware of and what to expect during certain treatments. Quality dentists realize that keeping you informed about what is going on makes you more comfortable.
3. Values your time and budget
Some dentists might keep you stranded in waiting rooms, or coerce you into getting expensive treatments you do not really need, but a good dentist will never do so. A real professional understands how valuable your time and money is, so he/she will respect appointment times and never recommend treatments you do not really need.
4. Understands the value of cleanliness
A quality dentist knows how important it is to keep his/her office clean at all times. Even the waiting room reflects the standard of hygiene in the establishment. Having dirty dental chairs or tools is simply unacceptable as that can spread germs from patient to patient. It is probably best to find a new dentist if you run into one who thinks it is okay to use dirty tools to work on clients.
5. Takes time to get to know you
A good dentist will go the extra mile to make sure that you do not feel like you are just another patient to him or her. Getting to know you better also gives your dentist a better idea of your medical history.
6. Wants to be your long-term dental professional
A competent dentist understands how important it is to keep you as a regular patient, so he/she will try to make you feel like a regular when you are there. A good dentist will follow up with appointments and schedule regular cleanings and examinations to ensure your teeth are in excellent condition. If your dentist acts like it is your first time every time you're at the clinic, it is probably time to find a new oral professional.
Wrapping up
Selecting the best dentist for you and your family members is not a decision to take lightly. You want a dentist that you can keep going back to for years to come. Unfortunately, not all dentist are as professional as they should be, so it is up to you to weed out the unprofessional ones that are more worried about how much their clinic makes than your oral health.
When was the last time you saw a dentist?
Request a dental appointment here: https://www.northside-dentalcare.com or call Northside Dental Care, PC at (978) 206-7077 for an appointment in our Peabody dental office.
---
Related Posts
April 2, 2019
Your child is getting ready for a dental checkup, and you are wondering what to expect. You want to be prepared to answer any of your child's questions, so it is critical that you are …
---