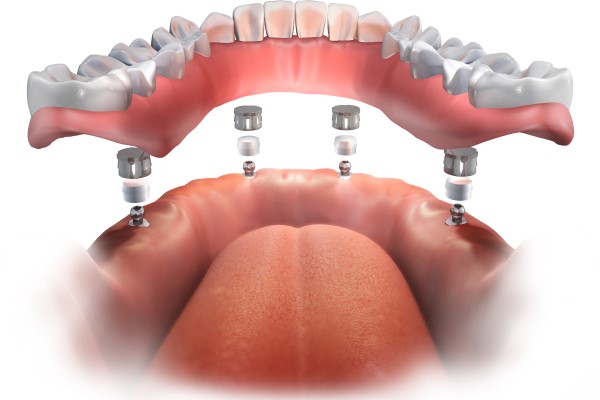 All-on-4® refers to a tooth replacement process that involves the use of four dental implants per arch and a denture piece. The two work together to successfully replace an entire arch of missing teeth. Unlike other tooth-replacement methods, All-on-4® involves the use of many different materials, all of which are safe for the mouth and the body. Continue reading to learn more about each of the materials used and what purpose they serve.
The materials used for All-on-4®
Below is a quick overview of the different types of materials that are used for the All-on-4® method. Reviewing this information may be helpful to individuals who are considering their tooth replacement options.
The dental implants
The All-on-4 method involves the use of dental implants, which are most traditionally made of titanium. Titanium is a biocompatible material that the body rarely rejects. This also means that instead of the implants just living in the jawbone, they actually fuse with it and become part of the bone. Unlike other materials that are used in dentistry, titanium offers overall health benefits.
In addition to the dental implants, abutments are used. Abutments are small connector pieces that are made of metal materials. They are attached to the head of each dental implant so that the denture piece can snap securely into place.
The denture
Denture pieces are typically made of a combination of materials, including nylon, plastic, acrylic resin, and sometimes metal. Each of these materials plays a crucial role in the making of dentures. They all work together to create a piece that is durable and secure within the mouth.
The pink part of the denture piece is meant to replicate the gums; this part is usually made of plastic. The artificial teeth are usually made of acrylic resin and nylon materials. Although denture pieces are extremely durable, their makeup is actually quite fragile. This means that it is very important to be careful when eating or doing anything physical. Hard or sticky foods should be avoided at all costs as this could damage the denture piece and even dislodge the dental implants.
Other things to know about All-on-4
While the majority of the materials listed above are used for All-on-4, there may of course be some alterations. For example, some dental implants are made of zirconia, which is a commonly used material in dentistry. Zirconia is a strong material, however, titanium has proven to be more successful as it relates to All-on-4. Additionally, in some cases, other materials like porcelain may also be used for the denture piece.
Find out more about All-on-4®
When considering the All-on-4® method for tooth replacement, it is best to start by consulting with a dentist. The dentist can evaluate the mouth and determine what type of action is needed. Additionally, any questions or concerns about the entire tooth replacement process can be addressed properly. To learn more or to get scheduled for an appointment, contact our dental office today.
Request an appointment here: https://www.northside-dentalcare.com or call Northside Dental Care, PC at (978) 206-7077 for an appointment in our Peabody office.
Check out what others are saying about our dental services on Yelp: All-on-4 Dental Implants in Peabody, MA.
---
Related Posts
March 18, 2020
All-on-4 is a simple form of implant-supported dentures for replacing lost teeth or replacement options like removable dentures. The system utilizes the advanced technique of placing four dental implants to support an entire arch of …