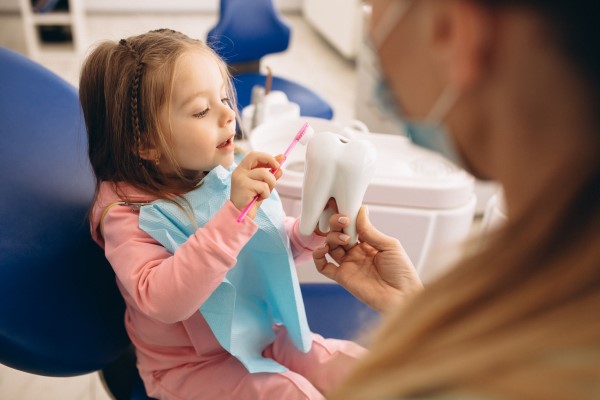 You may be wondering if a visit to the pediatric dentist is necessary once your child starts teething. Although parents are concerned about their child's general health throughout those formative years, oral health is sometimes disregarded. It is not advisable to wait until all the teeth have come in or until the child gets cavities or plaque. This article covers five reasons that you should take your child to the dentist sooner rather than later.
The need for the dental visit
According to the American Academy of Pediatrics and the American Dental Association, ideally, a child should see a dentist six months after the first tooth develops.
Get a child acquainted with the dentist
The initial appointment is not just for preventative measures or to have the child's mouth examined for signs of dental issues. Instead, it is more of a proving ground. For example, children who wait until they have tooth decay or cavities to attend the dentist are more likely to be afraid of the encounter with the dentist.
A child becomes used to the dentist's chair and equipment during these first sessions. To make the visitors feel at ease, a pediatric dentist's office might contain colorful toys, video games, and treat bags. Each dental visit alleviates the child's apprehension and provides a good introduction to the dentist, the staff, and the surroundings.
Education on oral care
Education about children's oral care is another important reason to visit a pediatric dentist's office. This initial appointment informs parents about issues such as baby bottle tooth rot. It is crucial to understand the child's eating routines, finger-sucking and pacifier habits, teething, and dental care practices. It is reassuring to have a professional provide answers to questions and offer advice on the child's health. The dentist will use the avenue to teach parents the proper ways to brush the child's teeth and tips to help them learn good oral care in fun ways.
Prompt detection of oral issues
The dentist will examine the child's mouth and detect any abnormalities in advance. Treatment for certain dental issues is sometimes simpler if detected early. Oral checkups on a routine basis can guarantee healthy gums, jaws, and bite. Any problems with the child's jaw or tooth structure may impact their capacity to talk.
Parents frequently dismiss these early dental checkups, claiming that children's teeth are only temporary. Since the permanent teeth begin to grow alongside the temporary ones, though, this is an incorrect assumption. The dentist looks at the teeth that are visible and at what is concealed underneath the gums.
Biannual dental visits are important
After the initial dental appointment, a child should go to the pediatric dentist once every six months. During subsequent visits, the dentist will check your child's teeth and clean them properly. Contact the dental office to schedule an appointment today.
Request an appointment here: https://www.northside-dentalcare.com or call Northside Dental Care, PC at (978) 206-7077 for an appointment in our Peabody office.
Check out what others are saying about our dental services on Yelp: Pediatric Dentist in Peabody, MA.
---
Related Posts
July 15, 2017
As a pediatric dentist, we understand the crucial lessons, tips and tricks that we need to share with parents of young patients on a regular basis. Of these, perhaps the most profound lesson is the …