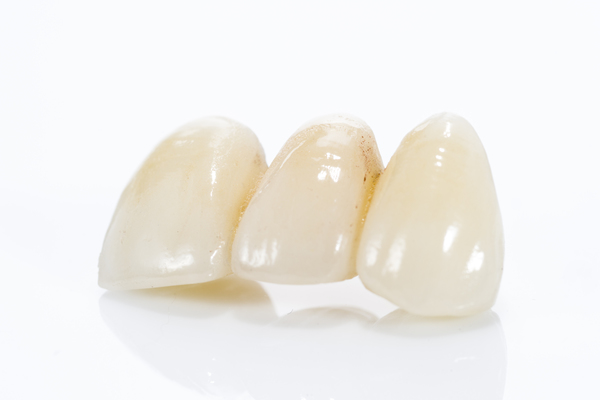 An implant bridge is a dental restoration that closes up the gap made by one or more missing teeth. It is a restorative option that dentists recommend to patients with a gap that is flanked by natural teeth, preferably on either side of said gap.
How does it work?
Like a traditional bridge, an implant bridge also consists of two parts. The first is the pontic or the artificial tooth. It consists of a series of dental crowns that are fused together. This is the part of the bridge that rests in the gap, where it assumes the functions of the missing tooth or teeth. The pontic is what the patient uses to bite, chew, form words or smile.
The second part of the bridge is the abutment, which takes the form of an implant-supported crown. With conventional bridges, the crowns that support the pontics are placed over the natural teeth that are adjacent to the gap, on either side. With an implant bridge, the crown, or abutment, attaches to a dental implant.
You may be wondering why a dentist might recommend an implant-supported bridge overfilling the gap with individual implant-supported crowns. Keep going to find out when and why a dentist would recommend an implant bridge.
When is an implant bridge a good idea?
Take the case of a patient that has a gap left by five missing front teeth on the upper jaw. A dentist will examine the individual and make one of two recommendations. They may recommend five implant-supported crowns. Or they may decide to place two implant crowns on both ends of the gap and fill the remaining gap with a bridge with three fused crowns. The dentist will take this approach if:
1. The patient lacks enough bone mass to hold one implant for each missing tooth
When a dentist evaluates a prospective candidate for dental implants, they check if their patient has enough jawbone to hold an implant. A person with five contiguous missing teeth will likely lose more bone mass at the center of the gap than at its edges, which are bordered by natural teeth that stimulate bone growth. In such a scenario, the dentist will:
Place the dental implants at the edges of the gap, where the jawbone is denser
Attach dental crowns to the implant
Place the bridge and attach it to the implant-supported crowns
2. The patient has more than one missing teeth
There is no need to make an implant bridge for a single lost tooth. However, implant bridges become an option if the person needs to replace multiple teeth.
3. The patient is likely to place too much pressure on multiple implants
Dentists also evaluate a patient's bite before they clear them for dental implants. During the evaluation, a dentist may find that their patient is likely to place too much pressure on multiple implants, which would drastically improve the risk of implant failure.
Instead of replacing five missing teeth with five implant-supported crowns, the dentist will place two implant crowns and use them as supports for a bridge with three crowns. This will minimize the amount of pressure that the patient applies to the jawbone as they bite down.
Do you need a smile makeover? Our dentist is happy to help
Missing teeth can make life a little hard. You become more cautious as you chew, making sure to adjust your bite because of the missing teeth.
Our dentist wants to give you back that little sliver of freedom that your missing teeth took with them. Set up an appointment today.
Let's get started…
Request an appointment here: https://www.northside-dentalcare.com or call Northside Dental Care, PC at (978) 206-7077 for an appointment in our Peabody office.
Check out what others are saying about our services on Yelp: Read our Yelp reviews.
---
Related Posts
May 15, 2020
Like many procedures in dentistry, dental Botox® is not a one-size-fits-all kind of treatment. For one, dental Botox® treats cosmetic and oral health problems that vary in type and severity. This translates to different dosages …